Contacts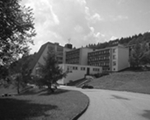 On this page, you will find contact addresses. Please do not hesitate to contact us in case any doubt concerning the conference arises.




When contacting us, please prefer address epe2013@epe-conference.eu. Official correspondence address as well as contact information to members of the organizing committee can be found below.
Correspondence Address
VSB - Technical University of Ostrava
Dept. of Electrical Power Engineering, FEECS
17. listopadu 15/10
708 33 Ostrava - Poruba, Czech Republic

Tel.: +420 596 991 282
Fax: +420 596 919 597
E-mail: epe2013@epe-conference.eu
Organizing Committee
Chairman
doc. Dr. Ing. Zdeněk Medvec

Executive Secretary
Ing. Roman Portužák, CSc.

Members
doc. Ing. Radomír Goňo, Ph.D.

Ing. Lukáš Prokop, Ph.D.

Ing. Tadeusz Sikora, Ph.D.

Ing. Petr Moldřík, Ph.D.

Bc. Žaneta Vylegalová